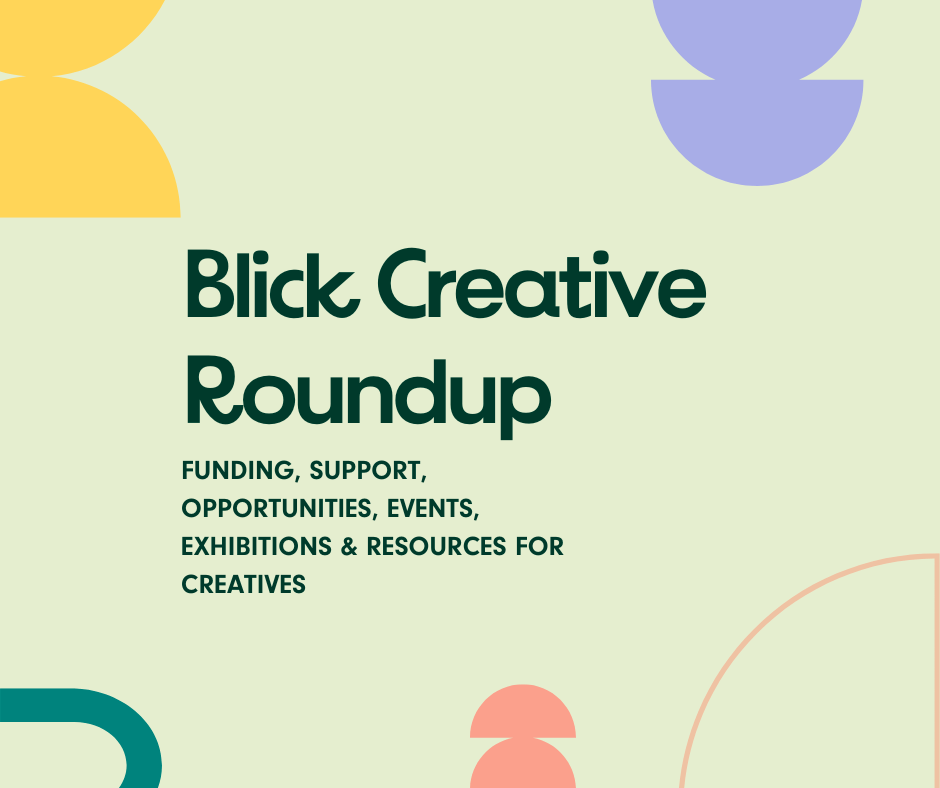 Blick Creative Roundup August – September
---
Our summary of some interesting and useful opportunities, events and resources over the next couple of months.
FUNDING, SUPPORT & OPPORTUNITIES
ARTISTS INTERNATIONAL DEVELOPMENT FUND
The programme will support early-stage international development opportunities for individual, freelance and self-employed artists and arts organisations based in Northern Ireland.
Closing date: 12noon on Monday 21 August 2023
INTERNATIONAL WRITERS RESIDENCY PROGRAMME
British Council 4-week international writer's residency programme February-March 2024 in Hong Kong for writers with at least one book published
Deadline: Thursday 31 August
BRITISH COUNCIL SPOTLIGHT ON CULTURE UK/FRANCE GRANTS
The British Council are seeking artistic collaborations between France and Northern Ireland for a new fund designed to spark new and refresh connections between the UK and France. Up to £30k is available through the fund to support collaborations between Northern Ireland and France – to help build long-term relationships among artists, creative practitioners, and cultural organisations.
Deadline: 8th September
ARTS COUNCIL NATIONAL LOTTERY MAJOR INDIVIDUALS AWARDS (SIAP)
Major Individual Awards are intended to create the circumstances in which established artists with national / international recognition may develop extended or ambitious work. Costs can be for specific projects, specialised research, personal artistic development and materials/ equipment.
Four awards of up to £15,000 each are being offered in 2023/24.
Deadline: Tue 15th August
ARTS COUNCIL NATIONAL LOTTERY SUPPORT FOR INDIVIDUAL ARTISTS PROGRAMME (SIAP)
The aim of the overall Support for Individual Artists Programme (SIAP) is to support artists across all disciplines to create work and develop their practice.
Closing date: 31st August
SCULPTURAL ARTWORK COMMISSION FOR BUSHMILLS COURTHOUSE SHARED SPACE CREATIVE HUB
This tender seeks visionary artists for the design, fabrication, and installation of four striking 2D/3D sculptural artworks. The maximum budget for each sculptural artwork is £50,000. Each individual artist is limited to applying for a maximum of two commissions.
This opportunity is part of the Bushmills Courthouse Shared Space Creative Hub project, supported by the EU's PEACE IV Shared Space Programme. The project aims to restore the historic grade 2 listed Bushmills Courthouse and construct a new three-story extension, creating a vibrant Creative Hub for creative businesses, the local community, and visitors.
To apply
For full details and how to apply, please email thecourthouse@enterprisecauseway.co.uk
Deadline: Friday 4th August 2023 at 4pm
RENDR OPEN CALL 2024
The RENDR Festival is a unique experience in Northern Ireland, celebrating creative craft and artistry in a fully immersive festival exploring the space between creativity and technology. They are doing an open call for people to Speak, Perform or Demo at the 2024 festival
Deadline: Friday 11th August 2023
ARTS & BUSINESS NI AWARDS TROPHY COMMISSION
This year, Arts & Business NI are seeking trophy artworks which reflect the theme of 'connection'. Artists are invited to submit design proposals for the Award Pieces in response to the brief which can be found at the link below.
The total fee for this commission (15 award pieces) is £4,000. Submission of design proposal along with a CV required by noon on 29 August 2023
Deadline: noon on 29 August 2023
---
EVENTS, EXHIBITIONS, WORKSHOPS & FESTIVALS
Collaborative exhibition of reinterpreted iconic album artworks from some of Usfolk's favourite illustrators in partnership with Sound Advice Belfast.
Date: Thursday 3rd August
Time: 6 – 9pm
Venue: Banana Block
Launch night Thursday 3rd August
Open day Sunday 6th August
Venue: Belfast Ceramics Studio
KERRY WHELAN X PURE DIRT EXHIBITION OPENING
Date: Fri 11th August
Time: 7 – 10pm
Location: Blick Shared Studios, 51 Malone Road, Belfast, BT9 6RY
A series of workshops and gatherings for creatives
This August we are excited to return with our first program of in-person events since 2020. A series of workshops and gatherings for creatives who want to take some time out for themselves, to develop their creative ideas and to connect with other like minded creatives.
We hope to provide space, support and inspiration to allow you to follow your own path and take the first practical steps to make your creative idea, whether it's a new business, a new project, side hustle, rebrand of your current creative business or anything at all that's creative a reality.
An afternoon of thinking, idea development & connecting with other creatives
Date: Fri 4th August
Time: 3.30 – 5.30pm
Providing space and support for you to work on your creative idea
Dates: Sat 5th, 12th & 19th August
Time: 10.00am – 2.00pm
A series of workshops on defining and writing your creative story
Dates: Sat 5th, 12th & 19th August
Time: 2.30 – 5.00pm
An afternoon of making & connecting with other creatives
Date: Sun 6th August
Time: 3.00 – 5.00pm
Summer get-together for creatives to gain inspiration and connect with other like-minded creatives.
Theme: 'Courage'
Date: Wed 23rd August
Time: 8.00 – 9.30pm
All of our summer events are being hosted in our Malone studios
A get-together for Creative Hubs from NI to come together to share ideas and information, support each other and potentially come together to work on larger scale projects.
Date: Wednesday 23rd August
Time: 11am – 1pm
Location: Blick Shared Studios, 51 Malone Road, Belfast, BT9 6RY
VIRTUAL SPEAKING MASTERCLASS BELFAST
Learn the key skills of effective online communication
Date: Friday 25th August
Time: 6.30 – 8.00pm
Location: online
INTERTRADEIRELAND SEED FINANCE WORKSHOPS
The Seed Finance Workshops are designed to help early stage start-up companies seeking to raise Business Angel or Venture Capital finance.
The Workshop Timetable is as follows:
Seed Finance I  Tuesday 22nd August 10:00am – 12:00pm
Seed Finance II Friday 25th August 10:00am – 12:00pm
Seed Finance III   Tuesday 29th August  10:00am – 12:00pm
Sunday 27th August
Time: 2-6pm
Location: Banana Block
Join ArtsEkta for a feast of family events, late night music, food, exhibitions, walking tours, finishing with the spectacular festival weekend at Botanic Gardens.
Dates: 19 – 27 August 2023
Times: Various
Location: Various
Featuring some of the best in contemporary craft, the annual August Craft Month Exhibition aims to celebrate and profile excellence in Northern Irish craft.
Dates: 3rd August – 15th September
Location: Craft NI Gallery
WHY LEARNING TO FAIL CAN TEACH US TO THRIVE
The world's leading expert on the science of psychological safety draws on a lifetime's research to show how to get failure right.
Amy Edmondson has been named the most influential management thinker in the world. In her latest work, she introduces the three archetypes of failure – simple, complex and intelligent – and explains how to harness the revolutionary potential of the good failures – and eliminate the bad.
Date: Tuesday 26 September 2023
Time: 13:00 – 14:00
Location:online via YouTube
Creative UK's annual festival has been engaging audiences since 2020 with creators from across the Creative Industries, forming a space for discussion and interaction, through thought-provoking panels, talks, workshops and performances.