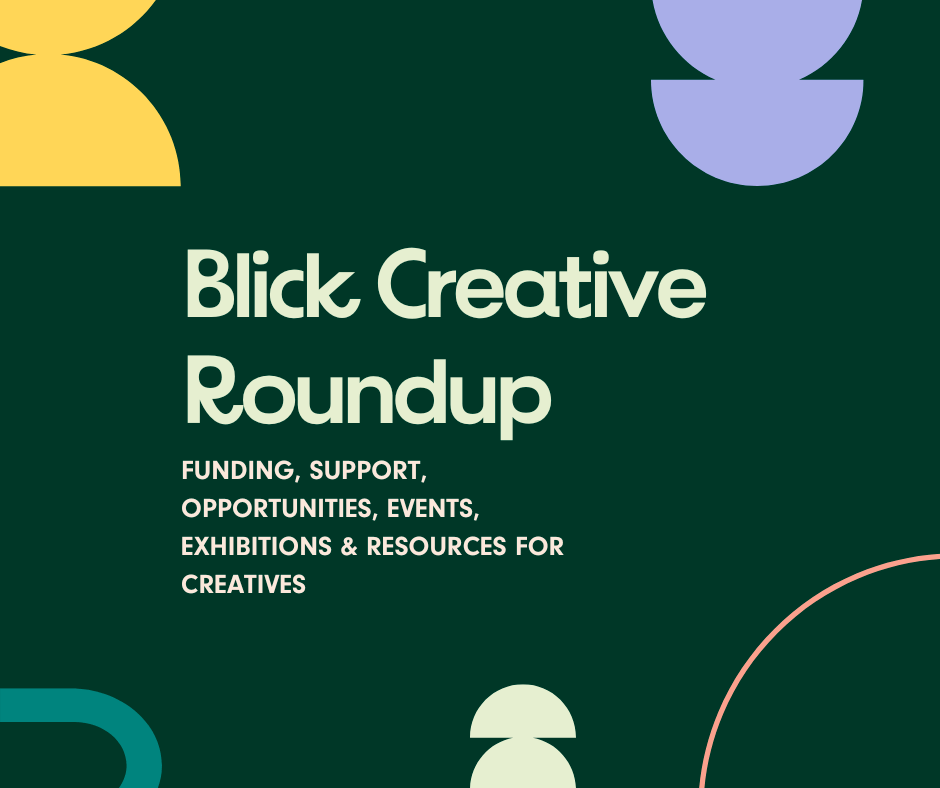 Blick Creative Roundup July – August
---
Our summary of some interesting and useful opportunities, events and resources over the next couple of months.
---
FUNDING, SUPPORT & OPPORTUNITIES
Northern Ireland Screen Short Film Funding
Northern Ireland Screen have launched their short film funding call. Funding is available for talent to produce live action, factual and virtual reality short films normally up to 15 minutes in length.
Individual level deadline: 18th August
Company level deadline: 29th September
More info: https://northernirelandscreen.co.uk/funding/funding-calls/
Anthology Creative Awards
The Anthology Creative Awards are now open for entries. Established to encourage and promote visual artists and writers, the Anthology Creative Awards provide a platform for emerging creatives to publish their work. There are six categories: Photography, Cover Art, Short Story, Flash Fiction, Travel Writing and Poetry. The winner of each category will win a cash prize and publication in a future issue of the internationally-distributed Anthology magazine.
Closing date: Sept/ Oct 2023
More info: https://anthology-magazine.com/category/awards/
QEST Awards and Emerging Maker Grants
The Queen Elizabeth Scholarship Trust (QEST) awards scholarship and apprenticeship funding of up to £18,000 to talented and aspiring craftspeople working in a broad range of skills, from farriery and jewellery design, to silversmithing, dry stone walling, glassblowing cheese maturing, sculpture and more.
In addition to the Scholarship and Apprenticeship funding, QEST are excited to launch the Emerging Maker Grants this summer. This new funding opportunity supports talented early-career craftspeople in their development. Makers with four years or less of professional practice, who have a strong connection to materials, technical skills and processes, can apply for up to £10,000.
The funding specifically supports training and education to enable makers to enhance their craft skills and advance their careers. The training can take many forms, from traditional college courses to vocational one-on-one training with a master craftsperson, or a bespoke programme of short courses.
Three 'How To' sessions will be held via Zoom to introduce interested makers to the different funding available, tips and advice for filling in applications and the opportunity for Q&A:
How to Apply for a Scholarship – Wednesday 12 July, 1pm-2pm
How to Apply for an Apprenticeship – Tuesday 18 July, 1pm-2pm
How to Apply for an Emerging Makers Grant – Thursday 20 July, 1pm-2pm
Deadline for applications: 5pm, Monday 14th August 2023.
More info: www.qest.org.uk/apply
Benchspace Designer In Residence Programme
This programme endeavours to bring established designers and makers from outside of County Cork, Ireland, to showcase their work and contribute fresh perspectives to the professional makers at Benchspace. It affords the successful candidate the opportunity to create a new body of work or facilitate the exploration of innovative methodologies, within the creative community at Ireland's first, shared, creative manufacturing hub, based in Cork City.
Programme details:
– 4 week residency across August and September 2023
– Access and inductions to benchspace's professional workshops (wood, fine-metal, digital fabrication, product photography and digital design)
– Individual studio workspace within our shared workshop
– €2000 to put towards travel, accommodation and expenses
– €200 materials budget
Contact programmes@benchspacecork.ie if you have any questions.
Closing date: Sunday 2nd July
More info: https://benchspacecork.ie/wp-content/uploads/2023/06/Designer-in-Residence-2023-Final.pdf
Poetry with Pride Submissions
Belfast Pride is now seeking submissions for 2023's Poetry with Pride magazine – a digital publication celebrating queer poetry in Belfast. They're especially eager to publish poetry by members of the LGBT+ community in Belfast but we also welcome submissions from LGBT+ writers across the island of Ireland and further afield.
Submissions guidelines:
Poems to be no longer than 30 lines, with a maximum of three poems per submission.
Deadline for submissions: 6th July 2023.
Please email your work as a Word doc or pdf attachment to toby.buckley@belfastpride.com.
August Craft Month Exhibition
Craft NI are pleased to invite applications to take part in their August Craft Month exhibition 2023. This exhibition will have a number of prizes aimed at supporting makers at different stages of their careers. The exhibition will take place during August and into September, as part of August Craft Month celebrations, held in the Craft NI Gallery, Belfast's only dedicated crafts venue. All exhibitors will benefit from the promotional activity around August Craft Month, the support of Craft NI communications and Gallery staff and profile on Craft NI's exhibition website.  There will also be a number of Guild Prizes for both emerging and established makers.
Closing date: Friday 30th June
More info: https://craftni.org/augustcraftmonthexhibition/
Royal Ulster Academy of Arts – Call for Entries 2023
The RUA Annual Exhibition is the most eagerly anticipated exhibition in the Northern Ireland cultural calendar providing a unique platform for acclaimed artists and emerging talent to showcase their artwork in the fabulous galleries of the Ulster Museum.
Closing date: Monday 17th July
More info: https://royalulsteracademy.oess1.uk/
Princes Trust Development Awards
Development Awards are grants of up to £500 to help young people who are struggling to access education, work or training due to a lack of funds. Please note that the average award is £200 and it is not possible to support every young person with a £500 grant.
More info: https://www.princes-trust.org.uk/help-for-young-people/get-funding-train-learn
The Textile Society's Professional Development Awards
The Society's Professional Development Awards of up to £2,000 support the further development of professional practitioners within their chosen textile discipline, whether art, craft, design, curatorial, scientific or any other textile related field.
The Awards are intended for professionals working within a recognised field of textiles, including PhD candidates in the later stages of their research.
Applications are assessed annually, and the award is given on the strength of the applicant meeting the professional criteria within their discipline and chosen textile field.
Closing date: 1 September 2023
More info: https://www.textilesociety.org.uk/awards/professional-development-award
BFI Film Fund
The aim is to champion a breadth of bold and distinctive filmmaking across the UK; to nurture new talent; and to back the development, production and distribution of films that will enrich UK film culture.
BFI welcomes applications for film projects in all genres, and is committed to promoting diversity in the filmmakers we support, the stories they tell and the audiences they reach.
BFI also supports independent UK distributors to help ensure that the best British and specialised films connect with a wide range of audiences across a range of platforms. BFI supports sales companies that are launching new UK films at key international film festivals and markets.
Applications can be made to the Film Fund at any time, and you should expect to receive an initial response from us within six to eight weeks.
More info: https://www.bfi.org.uk/get-funding-support
New Belfast Ceramics Studio
An exciting new ceramics studio is being opened next month in East Belfast by Helen Faulkner Ceramics.
Belfast Ceramics Studio is an open access clay studio providing classes for all levels in ceramic techniques as well as membership based access for professional makers and independent hobby potters.
Classes are available for non-members and members and the July workshops are available to book now with August open days and classes coming soon.
More info: www.belfastceramicsstudio.com 
The Big Queer Art Show Open Call
To celebrate Queer Art Usfolk Illustration Agency is delighted to invite LGBTQ+ artists to submit their work to be considered for this year's Big Queer Art Show.
Submission date: 5.30pm on Fri 30th June
More info: https://www.instagram.com/usfolkillustrate/
Catalyst Arts Auction
All proceeds will support Catalyst Arts and our programming for 2023-24 – in turn supporting local and international artists we work with.
The auction will be live from Tuesday 27th June 1pm to Friday 7th July 1pm.
More info: https://www.instagram.com/catalystarts/
---
EXHIBITIONS, TRAINING, EVENTS & WORKSHOPS
Blick Summer Events
A series of workshops and gatherings for creatives held in our Malone Studios
Blick Summer Think – Together We Can Figure It Out – Designing your Story to Wow the World 
An afternoon of thinking, idea development & connecting with other creatives
Date: Fri 4th August
Time: 3.30 – 5.30pm
Blick Summer Learn 
A series of workshops on defining and writing your creative story
Dates: Sat 5th, 12th & 19th August
Time: 2.30 – 5.00pm
Blick Summer Creative Club 
Providing space and support for you to work on your creative idea
Dates: Sat 5th, 12th & 19th August
Time: 10.00am – 2.00pm
Blick Summer Make 
An afternoon of making & connecting with other creatives hosted by jewery designer Lynda Thompson-Spack owner of Fred Loves Ginger 
Date: Sun 6th August
Time: 3.00 – 5.00pm
Blick Summer Meet 
Summer get-together for creatives to gain inspiration and connect with other like-minded creatives.
Theme: 'Courage'
Speakers: Kerrie McNeill Designer and Illustrator   
Caroline Baker Founder of Little Fox Belfast 
Date: Wed 23rd August
Time: 8.00 – 9.30pm
More info: https://www.blickstudios.org/workshops-and-events/
Eastside Arts Festival
Across 11 days they will be celebrating the reputation of East Belfast as a place where the arts have flourished, and with a live music scene that is unrivalled.
Dates: 27th July – 6th August
Venue: various
More info: https://www.eastsidearts.net/
Linen Biennale
Join Belfast Print Workshop for an extraordinary celebration of art and heritage as they proudly host the Linen Biennale 2023. From August 3rd to August 31st, their studio and gallery will come alive with an exhibition showcasing the intricate beauty of linen through the creative lens of talented artists. Throughout the month, they will also be featuring guest speakers and exciting demonstrations, offering you a unique opportunity to gain insights into the creative process and techniques behind this remarkable medium.
Dates: 3rd – 31st August
Venue: Belfast Print Workshop
More info: https://bpw.org.uk/events/linen-biennale-2023       https://www.linenbiennalenorthernireland.com/ 
August Craft Month
August Craft Month, Ireland's unique celebration of the craft sector, providing opportunities for all to learn about, make, see and buy craft!
Dates: throughout August
Venue: various
More info: https://augustcraftmonth.org/
Intro to Brand Storytelling Basics: How to build authentic thought-leadership
In this online event you will explore…What does it mean to be an authentic thought-leader and why it matters? Most effective ways in which organizations, entrepreneurs, and small businesses can become thought-leaders in their areas, Holding space for diversity and inclusion, and more.
Date: July 3rd
Time: 12.00pm EDT
Venue: online
More info: https://creativemornings.com
Usfolk's Big Queer Art Show
A celebration of Queer Art by Usfolk Illustration Agency
Date: Opening Fri 21st July
Venue: 2 Royal Avenue
More info:  https://www.instagram.com/usfolkillustrate/