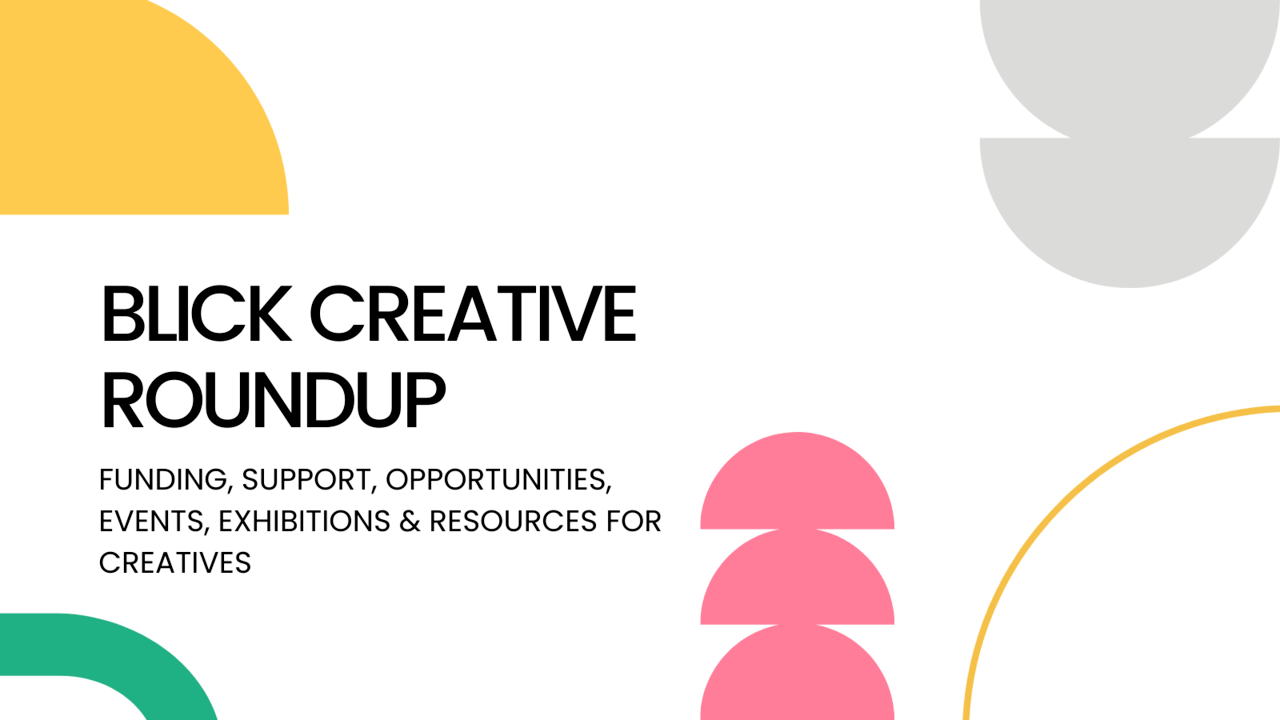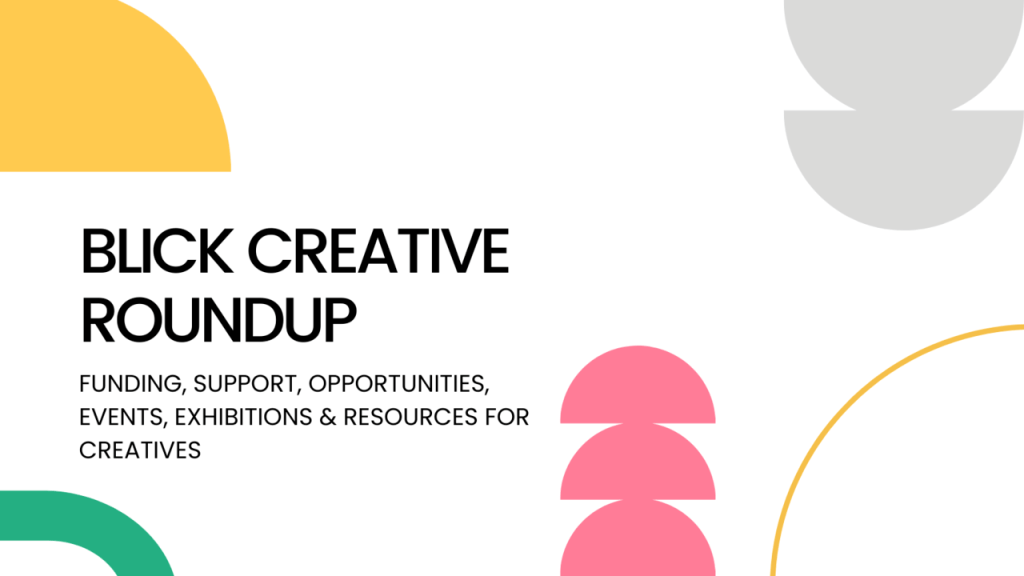 Blick Creative Roundup May – June
---
We are bringing back our Creative Roundup, now every 6 weeks on our blog, social media and in our new format newsletter. Our summary of some interesting and useful opportunities, events and resources for creatives in Northern Ireland.
---
FUNDING, SUPPORT & OPPORTUNITIES
The Extra Nice Fund
Have a creative project you're hoping to realise? It's Nice That want to hear from you for the Extra Nice Fund!
It's Nice That are looking to fund one creative project – whether that's a magazine, podcast or anything in between – which positively impacts underrepresented or marginalised groups in the creative industry. The fund will offer one recipient £2,500 in financial backing for a creative project.
Closing Date: 14th May 2023
The Aesthetica Art Prize
The Aesthetica Art Prize celebrates contemporary art in all its forms, offering opportunities for exhibition at a major public gallery alongside publication and £10,000 prize money.
Future Makers 2023 Awards
Future Makers is a Design & Crafts Council Ireland (DCCI) initiative which recognises talent, potential and creativity. Its aim is to support the next generation of makers, designers and craftspeople to take the step from training into enterprise. Divided into student and emerging practitioner categories and covering a wide range of disciplines, it is one of the largest prize-funded award programmes in Europe.
Closing date: 16th June 2023
Void Visionaries presents: 'energy drinks at midnight' open call for young artists
The Void Visionaries leadership team are currently searching for fellow young artists, aged between 14 and 22 years old, to submit their work to be considered for an upcoming exhibition called 'energy drinks at midnight' which will take place in Void's education space from 23 June – 8 July 2023.
Closing date: 19th May 2023
More info
August Craft Month 2023 is now open for applications
Craft NI invite applications from makers, guilds, networks, galleries and arts venues and welcome the submission of events that provide the chance for audiences to come together to celebrate Northern Ireland's craft sector whether in-person, online, or both.
Closing date:  19th June 2023
Source Graduate Photography Online 2023
If you're due to graduate from a Photography Degree or Masters Course in 2023, now is the time to start getting organised by booking a place for your course in next year's Graduate Photography Online.
With Source's 30-year track record of publishing, their established readership of industry professionals includes curators, picture editors and publishers. Create a permanent promotional platform for your graduate work on our website to ensure that it is seen long after the week of your degree show. Your individual web page can feature up to 8 images, your Artist Statement, contact details and a link to your website.
University of Atypical Digital Horizon Call-Out
University of Atypical for Arts and Disability is seeking artists and creative practitioners across a range of artforms, who identify as d/Deaf, Disabled or Neurodiverse, to deliver masterclasses as part of their Digital Horizon Programme. Digital Horizon is a three-year professional development initiative supporting the Disability Arts sector in Northern Ireland.
Closing date: 22nd November 2023
More info
The Designerie are inviting applications to take part in their creative hub – Makers House.
Makers House is a Creative Hub located at 88 Main Street Bushmills containing 8 business pods specifically used to showcase local creative talent.
They offer retail space at a very competitive weekly rate which includes all utilities. They are currently particularly interested in applications from creatives working in the following mediums, Silver/Goldsmith, Hand-Printed items, Ceramics
Belfast Potters Market
Calling all local potters and sculptors! Belfast Potters Market are now accepting applications for exhibitors. Whether you are new in the ceramics community or a seasoned veteran they encourage you to apply!
Closing date: Sun 14th May 2023
---
EXHIBITIONS, TRAINING, EVENTS & WORKSHOPS
Usfolk 5
Illustration exhibition featuring the following illustrators
Thomas Bannon / Evgenia Barinova / Daniel Batista / Jamie Beard / Jacob Burrill / Mel Carroll / Aoife Dooley / Cathal Duane / Cat Finnie / Owen Gent / Danni Gowdy / Stephen Maurice Graham / Till Lukat / Amy Mathers / Conor McClure / Fiona McDonnell / Clive McFarland / David J McMillan / Conor Nolan / Tara O'Brien / Lauren O'Neill / Holly Pereira / Jayde Perkin / Sonny Ross / Martina Scott / Jacky Sheridan / Holly Szczypka / Zippy
Dates: 04.05.23 – 28.05.23
Belfast Print Workshop Exhibition: "Mark Making: Then and Now," by Alistair Livingstone
Alistair has been a valued member of the BPW since 2019, and has an impressive background in the arts, having worked internationally as an artist, designer, director, and consultant.
The exhibition, titled "Mark Making: Then and Now," showcases a diverse selection of Alistair's works, both old and new, and runs until May 26th, 2023, with opening hours from Monday to Friday.
Dates: until May 26th 2023
Opening hours: Mon – Fri
Belfast Met & E3 Studios CDI Showcase
An exhibition of student work at 2 Royal Avenue
Date: 11th & 12th May
Wheelworks Arts Tech Studio Skills Share
The Tech Studio Skills Share (TS3) is a new WheelWorks Arts (WWA) initiative that offers training to help you improve your creativity and skills in digital communication by harnessing the specialist artistic expertise of the WWA team.  Their team of professional artists and digital innovators have a wealth of knowledge, talent, and experience in delivering creative activities using a variety of media such as drama, painting, animation, game design, and crafts.
Belfast city council business events and workshops
A variety of online and in person for people starting and growing a business in Belfast
East Belfast Enterprise's – 'Been there…Started it up!'
We welcome you to our first business inspired event of 2023, 3 speakers, networking opportunity and a light lunch.
William Redpath of Manabu Learning, Tina Bradford from The Blind Spot and Helen Egnar of Stride Design will be talking you through an inspirational hour, about each of their businesses.
Date and time: Wed, 24 May 2023 12:00 – 14:00
Location: City East 68-72 Newtownards Road Belfast BT4 1GW
Developing Your Sales Strategy – Pipeline to Close
This workshop is aimed at creating lead generation, building a pipeline and closing sales to help your business grow.
Date and time: Thu, 15 Jun 2023 09:30 – 11:30
Location: Innovation Factory, Belfast 385 Springfield Road Belfast BT12 7DG
Northern Ireland Mental Health Arts Festival  2023 ~ MYTHS
A programme of varied, vivid arts events that aim to create a platform for high-quality artwork that deals compassionately and intelligently with mental health.
Dates: 11th – 21st May
Catalyst arts – Catalyst Cafe
As part of the NI Mental Health Arts Festival we are hosting Catalyst Cafe – a space to grab a cup of tea, have a chat, and take some time out from studio/work/life.
Dates: 11th – 19th May
Nesta – Winner takes all: how to break up tech monopolies with James Plunkett
In conversation with Alan Rusbridger, Editor of Prospect Magazine, James joins Nesta live to discuss why we need to act now to break up tech monopolies and how a forward-thinking regulatory framework could help us do so. James and Alan will explore opportunities, challenges and questions alongside our expert panel. As an audience member, you'll also have your say through interactive voting and a live Q&A.
Dates and location: In person and online, Thursday 13 July 18:00-20:00.
Find Your Focus in an Out of Focus World
Date & Time: May 16th, 2023, 11:00 PM GMT+1
Location: online
Write a purpose statement for your small business
Date & Time: May 22nd, 2023, 3:00 PM GMT+1
Location: online
Picking & Pairing Fonts the Easy Way
Date & Time: May 30th, 2023, 6:00 PM GMT+1
Location: online
Northern Ireland Screen Writing & Directing Networkshop with Sarah Gordon and Damian McCann
The pair have worked together on short films JUST THE TWO OF US and RAT. Damian also directed his debut feature film DOINEANN.
Date: Tuesday 30th May
Time: 7.00pm
Location: online