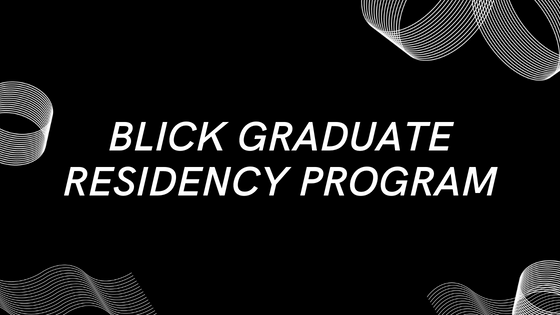 Blick Graduate Residency Program
Published:
August 3, 2022
---
We are very excited following a long and tedious couple of years to be back this Autumn with some new programs and support for self-employed creatives.
One of the programs we are bringing back is our Graduate Residency Program for recent graduates (2020 – 2022). We will be offering 9-months free workspace and bespoke business support including monthly mentoring and business support resources to help two recent graduates on the path to sustainable self-employment within the creative industries.
We recognise the challenges recent graduates have faced and continue to face trying to start a business. The isolation of the pandemic, working and studying from home and the different lockdowns and now the cost of living crisis have made it harder than ever. We want to do our bit to help by offering 2 recent graduates who either have an idea for a creative business, or have recently started their own creative business places on our Graduate Residency Program. We will provide free workspace and bespoke business support including monthly mentoring sessions and relevant exercises and resources to help support them in building sustainable creative industry businesses. The program will run for 9 months starting in October 2022.
The deadline for applications is 12pm on Friday 16th September 2022, and the start date for those selected for our Graduate Residency Program is Monday 3rd October 2022.
Applicants will be required to complete an online application followed by an informal interview. Please check eligibility details below before submitting an application
ELIGIBILITY
To be eligible for our Graduate Residency Program you must fulfil the below requirements.
Have graduated from University or College between 2020 and 2022
Have an idea for a creative business or have recently started a creative business under the UK's definition of the creative industries – 'those industries that are based on individual creativity, skill and talent with the potential to create wealth and jobs through developing intellectual property' – includes thirteen sectors: advertising, architecture, the art and antiques market, crafts, design, designer fashion, film, interactive leisure software (ie. video games), music, the performing arts, publishing, software, and television and radio.
Have the time to work on your creative business a minimum of 3 days a week from the studio
Be available to attend monthly mentoring sessions and complete any suggested exercises from the program start date of October 2022 – June 2023
Be committed and passionate about your creative business idea and willing to put the time and effort in to make it a reality