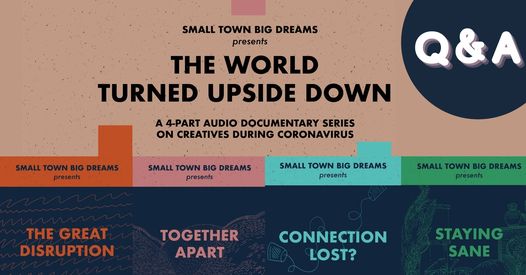 Sorry, this event has ended.
See other events
CREATIVES DURING CORONAVIRUS: ONE YEAR ON
---
Join us online with Black Box next Monday 26th April at 8pm for "Creatives During Coronavirus: One Year On" with a selection of our fabulous guests from 2020!
During the summer of 2020, the team behind the Small Town Big Dreams podcast made a 4-part audio documentary called The World Turned Upside Down, profiling how creative entrepreneurs from across the creative industries had been impacted by the first unimaginable months of the Covid-19 lockdown in Northern Ireland.
One year on from the start of the pandemic, Small Town Big Dreams returns with an online event to catch-up with some of those who participated in the documentary, and to see how they now feel about the experiences of the past year, and what they are hoping for in the months and years ahead.
Join podcast hosts Karishma Kusurkar and Graeme Watson for what will be a fascinating discussion about the creative industries as we move in to a 'new normal', featuring special guests:
– Patricia McGinnis ( Maven)
– Shannon Delores O'Neill ( Sister Ghost
/ Girls Rock School Northern Ireland)
– Tessa Ann ( Sound Healing Spa)
– Ryan Ward ( Take Two Studio)
Small Town Big Dreams is a podcast and podcast channel produced by Blick Shared Studios, and is available on all good podcast apps. For more information, visit the website here: www.smalltownbigdreams.co.uk
This event is generously supported by the Black Box Belfast.
Running time: 50 mins interview + 20 mins Q&A with audience via Zoom
The event is free, but register online at the Black Box website to attend